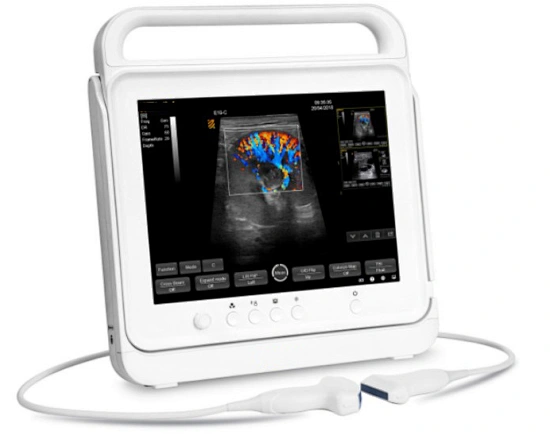 PT50C Veterinary Color Doppler Ultrasound Scanner
PT50C ergonomic design, uncompromised comfort in use, are the fully-featured touch industry-leading veterinary ultrasound machines for equine, large animal, small animal, zoo mammal, and marine mammal medicine. The dedicated veterinary user interface offers quick and precise imaging, diagnosing and printing at an affordable price.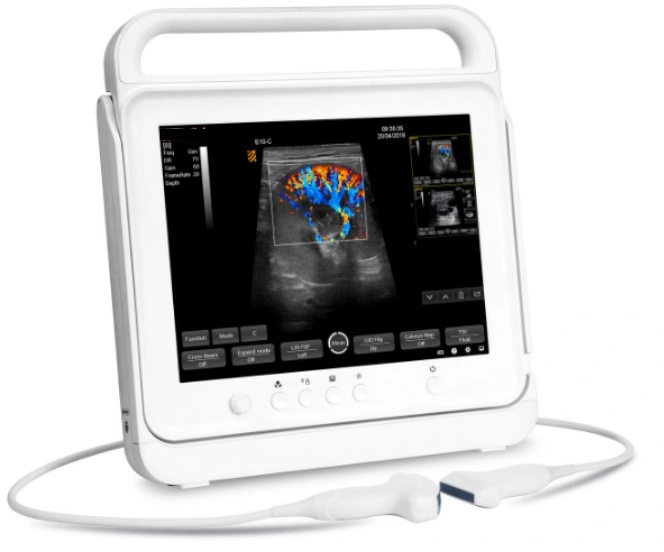 PT50C Veterinary Color Doppler Ultrasound Scanner

PT50C Vet ultrsound scanner is the most lightweight hand-carried portable ultrasound with three probe ports in the world, deliver superb image quality in many Veterinary clinic & research departments, livestock farm or practice settings across multiple examinations.
 
High-Resolution Touchscreen
 
PT50C is a high-resolution, 15"touchscreen veterinary ultrasound designed to provide a robust, high-quality ultrasound image. All patient files, reports, annotations, and specific measurements are all adapted for veterinarians.
 
Features:
Specialized veterinary transducer and veterinary software
Advanced imaging technology and superior image quality can provide fast and precise scans
Applicable to scans of Equine, Bovine, Ovine, Swine, Feline, Canine, etc.
Applicable to different diagnosis of Abdomen, Obstetrics, Cardiology, small parts, vascular, tendon, etc
15 inch high resolution, wide-angle color LED with 45 degree tilt functionality
Three transducer port is designed to meet the different clinical applications
Replaceable long life battery
iBscan™ Quick Image Optimization
Annotation library for quick comment
iBstation™Patient information management system
USB image transfer and software upgrade
Image clipboard for thumbnail view
The supported DICOM 3.0 can communicate with PACS system of the hospital seamlessly
Special-designed probe holder, no need for extra assistance
Modular software, easy for upgrade, free lifetime upgrade to new versions
Support rectal probe introducer eases your shoulder and arm strain for Fetal Aging, Pregnancy Testing
Patient ID/Owner Name
The patient screen is dedicated to the veterinary environment with fields for the animal's name, species, and breed.
Measurements and Reports
Confirming BMV's dedication to the veterinary world, complete veterinary measurement packages, including
abdominal, cardio-vascular, and reproductive gestational calculations provide easy examination documentation.
Wireless and DICOM Connectivity
The system is designed for limitless wireless connectivity and can be easily implemented in any Windows or DICOM environment. Access to wireless connectivity, easy networking, printing, and communication with external PCs are just one click away.
 
Accessories: 
Micro-Convex: Abdominal probe for reproduction and MSK. Can be used on horses, dogs, cats
Linear: External probe used for examining tendons, MSK and orthopedics. For use on horses, dogs, cats
Convex: Abdominal probe used for reproduction, 30 cm depth. Can be used for horses, swine and small ruminants
OPU Probe: Ovum pick up probe. For use on cows and mares
Linear Rectal: Linear rectal probe that can be used on cows and horses
Swine Carcass: Probe Used for back fat, loin eye, IMF and muscle depth in swine
Beef Carcass: Probe Used for back fat, loin eye, IMF and muscle depth on beef cattle
Carrying Cases: Cases Used for mobile moving
Standoff Swine & Bovine: For enhancing scanning with the Carcass transducer immediately beneath the body surface
Trolley: Completely adjustable, with large wheels, for smooth and safe transportation.
Travel case: A dedicated customized travel case either for roll along or as a rucksack.

Technical Specification: 
Ultrasound platform
Based on linux, stable performance, security data
Imaging modes
B,B&M,2B,4B,B+Color,B+Power,PW
Gray scale levels
256
Transducer type
Convex Array,Linear Array,Endocavity Array
Transducer frequency
2-12Mhz
Transducer element
128
Transducer connector
3 active transducer connectors
Scanning depth
Up to 351mm
Language

Software: English, Chinese, Spanish, Russian, Italian , Czech , and more(ODM support!) Keyboard Input: English, Chinese, and more(ODM support!)
User Manual: English, Chinese

Dimension
402x385x53mm
Weight
4.5kgs
Monitor
15 inch with 45 degrees adjustable
Input and output

HDMI:                       1
USB 3.0:                   1
WIFI:                         1
MIC:                          1
DC in:                        1
S-Video:                    1
DICOM3.0:(optional) 1

Standard Configurations

PT50C Vet Systems
15"high definition LED monitor
Touchscreen
C8‐5Cc Micro convex probe
WIFI module
Two USB ports
One s‐video out port
One HDMI port
One power inlet
Three transducer connectors
Two special‐designed probe holder
Plenty of veterinary measurement&calculation software packages Lithium Battery Supporting normal diagnosis
User defined exam settings
12 months warranty since ex‐factory date for main unit12 months warranty since ex‐factory date for probes

Options:

Convex array transducer
Linear array transducer
Rectal Linear transducer
High frequency linear probe
Micro convex probe
AC Adapter
Mobile trolley
Wheeled transport case
DICOM 3.0